The NHS Black Country Joint Forward Plan has been developed by working with partners and our local population. It sets out our challenges, health needs, strategic vision, and strategic priorities over the next five years.
The main aim of our plan is to improve the health outcomes for local people, making the Black Country a healthier place with healthier people and healthier futures.
The plan is a joint document developed together with NHS organisations in the Black Country (the Black Country Integrated Care Board and local NHS Trusts).
Working together with local people, our health and care partners and staff, we have produced a plan that is locally owned, delivers the national ambitions and recognises our collective strength in working together to resolve our shared challenges and describes our ambition to improve quality and outcomes for people who use our services.
In addition, the plan:
describes how we intend to use our NHS budget to make sure that local services are of the highest quality and that they meet local need
sets out the challenges which we face today and those that we recognise are affecting the future health of local people
explains how we will support a workforce that is fit for the future and create a system of health and care organisations that are seen as employers of choice
describes how we will support local people with the knowledge and skills to have more choice and control over their own health and care
describes how we will change the way organisations work together moving forwards.
The Black Country is home to 1.2 million diverse people within four distinct places: Dudley, Sandwell, Walsall and Wolverhampton.
As NHS Black Country Integrated Care Board, we are responsible for ensuring that local people have access to the best possible NHS services. Our NHS is made up of a number of partners including the Integrated Care Board (ICB) acting as the strategic commissioner, four Acute and Community Trusts (hospitals), one Mental Health, Learning Disabilities and Autism Trust, one Ambulance Trust, one Integrated Care Trust, four Local Authorities, 181 GP practices, 288 community pharmacies, 122 community optometry sites and 159 general dental practices.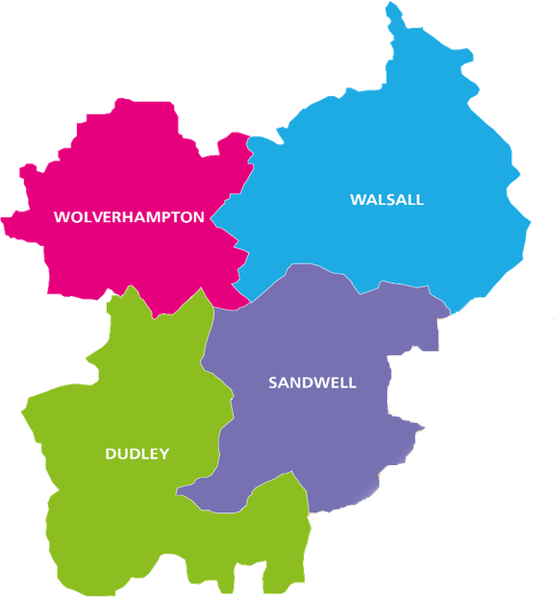 We are all part of the Black Country Integrated Care System (ICS) which brings health and care partners together with a number of other partners including community and voluntary sector organisations, housing, fire, police, major employers and education to improve the health and wellbeing of Black Country people.
We also have thriving Voluntary, Community, Faith & Social Enterprise (VCFSE) partners in the Black Country. This is a vast and diverse sector, comprising nearly 4,000 member organisations across our four place-based Community and Voluntary Services (CVS).
Our health challenges
How healthy we are and how long we live in good health depends on access to health services and other factors such as our health behaviours and lifestyles, the places and communities we live in, and the way in which we use health services.
In the Black Country people generally do not live as long as people in other parts of England. The years of life spent in good health (HLE) is also less than other parts of England.
Wider determinants are the most important driver of health. They include income, employment, education, skills and training, housing, access to services, the environment and crime.
Within the Black Country:
Life Expectancy in the Black Country is significantly lower than for England in all four places.
The gap in life expectancy between the Black Country and England is 2.2 years for males and 1.6 years for females
Healthy life expectancy is also lower than for England in all four places (significantly in Walsall and Wolverhampton for males and females and in Sandwell for females).
The gap between life expectancy and healthy life expectancy is larger for females in the Black Country than for England; it is similar for males.
Both child (43% locally vs 35% in England) and adult (69% locally vs 64% in England) obesity rates are higher than England.
We have some of the highest infant mortality rates in the country, whilst smoking rates in pregnancy remain high and breast-feeding rates are low.
We have higher recorded prevalence of diabetes, chronic kidney disease, chronic heart disease.
We have a high number of premature deaths from cardiovascular disease (CVD) and respiratory disease, under 75 mortality rates for CVD is 99 per 100,000 and under 75 mortality rates from respiratory disease is 38 per 100,000.
Dementia Diagnosis rates are below national expectation of 66.7%, Black Country is 63%.
Other challenges
Whilst our Joint Forward Plan sets out our ambition over the next five years, it is important to recognise the challenging landscape within which we will deliver our plan.
Restoration and recovery from COVID-19 - Whilst considerable progress has been made, there is still work to do to recover from the effects of COVID-19. We also know that local people have significant health challenges and that these are not experienced equally across all parts of our communities. COVID-19 has exacerbated some of these existing health inequalities.
Urgent and emergency care pressures – Urgent and emergency care remains our most pressured area. The demand for services at peak times, particularly in the colder months, risks exceeding the capacity we have if it continues to grow at the rate seen in recent years.
Workforce – Our workforce is a key asset to help us deliver our plans over the next five years. We know that we have significant work challenges including an ageing workforce, recruitment, and retention challenges and that looking after the health and wellbeing of staff is a key priority.
Finance and efficiency – Our system is facing significant financial challenges which can only be addressed by partners working together to deliver increased productivity, transforming and redesigning services to drive improved outcomes and making better use of resources.
Writing our plan
In addition to seeking the views of local people, when writing our plan, we have considered the following:
Integrated Care Systems (ICSs) are partnerships that bring together NHS organisations, local authorities, and others to take responsibility together for planning services, improving health, and reducing inequalities across geographical areas. There are four core purposes of an ICS:
improving health outcomes
tackling inequalities
enhancing productivity and value for money
supporting social and economic development.
This plan describes how the NHS will contribute to achieving our ICS purposes.
In writing our plan we have taken into consideration the following:
NHS priorities
The NHS publishes 'NHS Objectives' to be achieved, there are three current guidance documents on which this plan has been based:
NHS Long Term Plan (2019-2029)
NHS Joint Forward Plan priorities (2023-2028)
NHS Operational Planning Priorities (2023/24).
Our local Integrated Care Partnership strategy
An Integrated Care Partnership (ICP) is a forum jointly convened by Local Authorities and the NHS, comprised of a broad alliance of organisations and other representatives as equal partners concerned with improving the health, public health, and social care services provided to their population. The Black Country ICP has established that we should focus on the areas described below. This plan describes how the NHS will play its part, jointly with partners, in making improvements to the following areas:
mental health
social care
workforce
children and young people.
Core20 Plus 5
The Core 20 Plus 5 work is designed to support ICSs to drive specific actions to reduce health inequalities. Core20 is the most deprived 20% of the national population as identified by the national Index of Multiple Deprivation (IMD). Half the population of the Black Country lives in these Core20 areas. Although there is variation in the proportion of people living in Core20 areas across our four places, all four are higher than the national average.
The 'PLUS' are the population groups experiencing poorer than average health access or outcomes, and who may not be captured within the Core20 alone so may benefit from a tailored approach. PLUS groups include ethnic minority communities, inclusion health groups, people with a learning disability and autistic people, people with multi-morbidities, and other protected characteristic groups.
Along with defining target population cohorts, it also identifies '5' focus clinical areas requiring accelerated improvement. These are:
maternity
severe mental illness (SMI)
chronic respiratory disease
early cancer diagnosis
hypertension.
There are also clinical areas of focus for children which are:
asthma
diabetes
epilepsy
oral health
mental health.
We conducted a three-phase involvement approach which included desktop research, public events, a survey, and conversations through voluntary and community sector partners.
We attended and hosted 41 activities during January 2023 at community venues, libraries and warm hubs to talk to people about the plan and help complete surveys, both online and on paper.
1,178 people completed the survey.
We worked closely with 27 voluntary and community sector organisations who hosted friendly cooking lessons, crafts sessions and coffee mornings to return insights from people who all too often go unheard.
There is a full involvement report available online but in summary local people would like a focus on:
improved access - to appointments and emergency/urgent care, to resources and reasonable adjustments, to digital devices/data/skills
better preventative services
community focus – clinical and non-clinical
more personalised care options and choices.
There was also feedback to support more investment in services to tackle loneliness, isolation and mental wellbeing. Generally, it was clear that the rising cost of living will increasingly impact upon our communities impacting on health and care services in the short and long term. A big theme in conversations about the cost of living was the 'voluntary care squeeze' which was the worry expressed by some working age people caring for older/ younger dependents due to the cost of care.
In delivering our plan, we will work to the following principles:
Collaboration – we will work across organisational boundaries and in partnership with other system partners including our people and communities in the best interest of delivering improved outcomes for the population we serve.
Integration – ICS partners will work together to take collective responsibility for planning and delivering joined up health and care services.
Productivity – we will ensure we improve productivity by making the best use of our collective resources by transforming the way we deliver services across the Black Country.
Tackling Inequalities – we will ensure that we continue to focus on delivering exceptional healthcare for all through equitable access, excellent experience, and optimal outcomes.
We will use resources effectively and find more cost-effective ways of delivering the high-quality care that local people deserve.
We will encourage research and innovation to bring new ideas into the way that we work. We will support new digital technologies and improve the coordination of care through safe data sharing. We will also invest in growing the skills and capabilities of local people to use new digital technology so that they can have more options for accessing care when they need it.
We will also recognise our social, economic, and environmental role as one of the biggest employers and investors in the local economy. Where possible we will strive to reduce our impact on the planet through Greener NHS choices and we will aim to increase our impact locally through investment in local supply chains, employment of local people and working with partners to support healthier local people, places, and futures.
We will continuously improve quality and develop a strategy which will focus on supporting an ageing, ethnically diverse population and will aim to ensure services continue to be delivered in the right way, at the right time, in the right place and with the right outcome.
Working together to enable change
Local health and care organisations will work together at three different levels to support the delivery of our key areas of work. We will work at a System level with our provider collaboratives, at a Place level with our place-based partnerships and Health and Wellbeing Boards and at a neighbourhood level with our Primary Care Networks.
We will use our Operating Model to deliver this plan working in a more joined up way with organisations working together to address the challenges which we face. We already use our place-based partnerships and provider collaboratives to plan and make decisions for the populations they serve, and we intend to give them more freedom and resources to do so with the following:
Commissioning and contracting of services:
Place-based partnerships and collaboratives will be given responsibility for commissioning and contracting health and care services for the local population. This could include setting priorities, identifying the needs of the population, and working with local providers to ensure that services are delivered in a coordinated and efficient way, including setting priorities.
Resource allocation:
Place-based partnerships and collaboratives will be given greater control over the allocation of resources, such as funding and staff, to health and care services in their area. This could enable them to make decisions that are more tailored to the needs of their local population and ensure that resources are used efficiently.
Integration of services:
Place-based partnerships and collaboratives may be given greater responsibility for integrating different health and care services in their area, such as primary care, mental health services, and social care. This could involve developing new models of care and ensuring that services are joined up and patient centred.
Prevention and public health:
Place-based partnerships and collaboratives may be given greater responsibility for promoting prevention and public health initiatives in their area. This could include working with local authorities, community groups, and other stakeholders to promote healthy lifestyles and prevent ill-health.
In the Black Country we have three Provider Collaboratives. These are partnership arrangements involving at least two NHS trusts working at scale across multiple places, with a shared purpose and effective decision-making arrangements, to:
reduce unwarranted variation and inequality in health outcomes, access to services and experience
improve resilience by, for example, providing mutual aid
ensure that specialisation and consolidation occur where this will provide better outcomes and value.
1. Black Country Provider collaborative (Acute and Community)
In the Black Country there is agreement between our acute and community providers to work together to deliver effective, accessible, and sustainable acute care services. The agreement is between Sandwell and West Birmingham NHS Trust, The Dudley Group NHS Foundation Trust, The Royal Wolverhampton NHS Trust and Walsall Healthcare NHS Trust.
The Collaborative has agreed a number of priorities for the short-term, including:
identification of new service models, including Centres of Excellence and services applicable for a Black Country networked service solution, with those services transitioning to a new service model
clinical improvement programmes, to improve health outcomes and performance standards where appropriate
corporate improvement programmes, to improve resilience, efficiency and effectiveness where required.
2. Mental health, learning disability and autism lead provider
In the Black Country we have a lead provider for mental health, learning disabilities and autism services. Black Country Healthcare NHS Foundation Trust (BCHFT). The Trust takes responsibility for the whole pathway of care, which means the Trust has the flexibility to decide the best services and support for local people (working collaboratively with a range of partners to achieve the aims of this plan). Find out more on Black Country Healthcare NHS Foundation Trust website.
Several strategic priorities have been identified for the lead provider, including:
exploiting our collective strength across the Black Country, achieving a level of scale and pace of transformation that would not be accessible, or sustainable, at our individual Place based levels, whilst also addressing variation where it is agreed to be unwarranted
through more integrated community models across primary and secondary care, we are dissolving the boundaries and gaps between services to being greater integration between mental and physical health
to make optimal use of our Black Country bed stock, which is flexible, therapeutic, promotes dignity and privacy.
3. Primary care collaborative
By primary care we mean, pharmacy, dental, opticians and general practice. Primary care is a crucial part of the healthcare system. Up to 95% of interactions with patients, carers and other service users occur in primary care.
In the Black Country primary care is working together and they have formed a primary care collaborative to:
promote the interests, wellbeing, consistency and sustainability of primary care services
to ensure that a single voice for primary care is properly heard in decision making at all levels.
There are four local place-based partnerships in the Black Country covering populations which mirror the boundaries of local councils in Dudley, Sandwell, Walsall and Wolverhampton.
Whilst working at a Black Country level can bring the benefits of working at scale to tackling some of the bigger challenges in health and care, smaller place-based partnerships are better able to understand the needs of local people and design/deliver changes in services to meet these needs.
In the Black Country, place is the level at which most of the work to join up budgets, planning and pathways for health and social care services will happen.
Each of our place-based partnerships involve the NHS, local government and other partners, such as voluntary, community and social enterprise (VCSE) sector organisations, education, housing and social care providers.
Key development areas
The following sections describe how within the Black Country we will improve the services we provide over the next five years. It is described by the type of service and includes the vision, priority actions and the improvements in health outcomes we expect to achieve.
For the public:
improved quality (access, experience and outcomes)
care provided in the right place, by the right person
reduced harm/ incidents of poor care
improved physical and mental health for all
improved life expectancy and quality of life
greater choice and options to personalise care
new models of integrated healthcare
supported to have the best start to life.
For our staff:
greater sense of belonging, value and satisfaction
improved working conditions and succession planning
estate, equipment and digital technologies to enhance working practice
opportunities for improvement and personal development
pride in the care we deliver.
For NHS partners:
well led, well organised, system anchors
greater efficiency and value for money
reduced demand, through new models of care and improved patient outcomes
productive, motivated, flexible workforce
greater access to research and innovation
modernised estates and facilities
integrated care, with greater capacity to provide sustainable resilient services.
For the wider system:
reduction in health inequalities for our population
cohesive approach quality improvement and prevention
reduction in unwarranted variation of care
healthier people, healthier communities
thriving voluntary, social and community sector
engaged and growing workforce, fit for the future
diversity in leadership, equipped and informed to act
sustainable services designed to meet future need.
It is important to have the ability to measure whether the plan we have developed is being implemented effectively and to understand whether it is achieving the impact it intended.
To support this, we have identified key metrics and indicators aligned to each strategic priority that will be regularly reported to all NHS organisations within the System. Such indicators are likely to change dependent on priorities or issues that may arise during the year.
Improving access and quality of services
Eliminate waits of over 65 weeks for elective care by March 2024 (except where patients choose to wait longer or in specific specialties).
Continue to reduce the number of cancer patients waiting over 62 days.
Increase the number of adults and older adults accessing Improving Access to Psychological Therapies (IAPT) treatment.
Improve A&E waiting times so that no less than 76% of patients are seen within four hours by March 2024 with further improvement in 2024/25.
Make it easier for people to contact a GP practice, including by supporting general practice to ensure that everyone who needs an appointment with their GP practice gets one within two weeks and those who contact their practice urgently are assessed the same or next day according to clinical need.
Community where possible – hospital where necessary
Consistently meet or exceed the 70% 2-hour urgent community response (UCR) standard.
Continue on the trajectory to deliver 50 million more appointments in general practice by the end of March 2024.
Increase the utilisation of virtual wards.
Recover dental activity, improving units of dental activity (UDAs) towards pre-pandemic levels.
Establish a baseline of the numbers of Children and Young People (CYP) and adult patients on Community Services waiting lists and develop and agree a plan for reduction of lists.
Preventing ill health and tackling health inequalities
Increase percentage of patients with hypertension treated to NICE guidance to 77% by March 2024.
Increase the percentage of patients aged between 25 and 84 years with a CVD risk score greater than 20 percent on lipid lowering therapies to 60%
Ensuring annual health checks for 60% of those living with SMI (bringing SMI in line with the success seen in learning disabilities)
A clear focus on Chronic Obstructive Pulmonary Disease (COPD) driving up uptake of COVID, flu and pneumonia vaccines to reduce infective exacerbations and emergency hospital admissions due to those exacerbations.
Giving people the best start in life
Reduce the number of stillbirths per 1,000 total births.
Reduce the number of neonatal deaths per 1,000 total live births.
Measles, Mumps and Rubella for two doses (5 years old) to reach the optimal standard nationally (95%).
Ensuring continuity of care for 75% of women from Black, Asian and minority ethnic communities and from the most deprived groups.
Best place to work
Improve retention and staff attendance through a systematic focus on all elements of the NHS People Promise.
Continue to recruit 26,000 Additional Roles Reimbursement Scheme (ARRS) roles by the end of March 2024.
% of staff who have left the NHS during a 12-month period.
Sickness absence rates for NHS staff in England.
Increase the mean score NHS Staff Survey Staff engagement theme.
You might also be interested in...